Welcome to Leitrim and The Mill Master's House. Within a stroll, cycle or short drive of The Mill Master's House, there is so much to see and do. Explore the beauty of this hidden heartland of Ireland with its wild landscape, grassy trails, tranquil waterways, cascading waterfalls, rich heritage and so much more. 
The Rose of Inishfree Waterbus
Parkes Castle
North West Angling Service
Ard Nahoo Eco Retreat
Creevylea Abbey
Adventure Gently
Ardvarney Country Lodge
Leitrim Landscape Walks
Glenfarne Demesne - Walking
Glencar Waterfall
Fowley's Falls
Struth in Aghanidh An Aird / Devil's Chimney Waterfall
Tobernalt Holy Well
O'Rourke's Table
Villier's Castle
The Abbey Loop Walk
Electric Bike Trails
The Rose of Inishfree Waterbus
The Rose of Inishfree Waterbus
No visit to the north west is complete without a trip on the Rose of Innisfree tour-boat to view the Isle of Innisfree, situated on one of Ireland's most beautiful lakes, Lough Gill, which straddles Co Sligo and Co Leitrim.
This island inspired WB Yeats to write Ireland's most popular poem. Depart from the 17th Century Parkes Castle and take a leisurely cruise across Lough Gill for a memorable trip in an area of outstanding natural beauty steeped in myth and legend. Tea, coffee, home baking, snacks and full bar services on board. Live commentary and poetry recitals.
Lough Gill's environs are unrivalled in Ireland for their unspoilt beauty and interest to tourists and locals alike. It's the great diversity of geology, archaeology, history and scenery, which leaves a permanent impression on all visitors. Lough Gill's association with major events dates back as far as any locality in Europe, e.g. Queen Maeve of Connaught, O'Rourke's of Breffni, Norman Invasion, Sligo Abbey, Plantation Castle, 1916 Rising. The Cruise takes in numerous places of interest including Church island, Dooney Rock, Slish Wood and many, many more.
The Rose of Inishfree Waterbus is just 11mins drive from The Riverbank Restaurant.
Kilmore, Fivemilebourne, Co. Leitrim.
Mr George McGoldrick
T: +353 71 916 4266
E: info@roseofinnisfree.com
http://www.roseofinnisfree.com/
Parkes Castle
Parkes Castle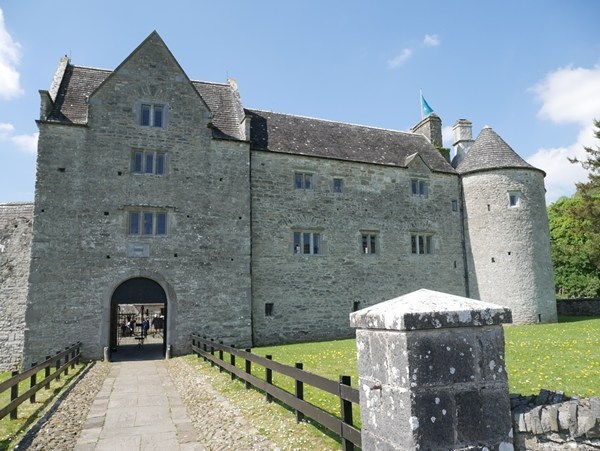 Parkes Castle was once an important stronghold of the local O'Rourke family, rulers of Breffni. It has been recently restored to its original 17th Century style using Irish oak and traditional craftsmanship and is situated on the shores of Lough Gill, a short 11min drive from The Riverbank Restaurant.
The courtyard contains the foundations and features of an earlier defensive structure, while another remnant of a bygone age is a traditional blacksmith forge of 17th Century style.
It is open to the public from 28 March until 2 October and the average length of a visit is 1 hour. There is access for disabled users on the ground floor and other facilities include a car and coach park and toilets. Last admission is 45 minutes before closing.
Five Mile Bourne, Leitrim,
T: +353(0)719164149
F: +353(0)719164546
E: parkescastle@opw.ie
http://www.heritageireland.ie/en/north-west/parkescastle/
North West Angling Service
North West Angling Service
North West Angling Services is owned by Ken Henry, a qualified & Fáilte Ireland approved guide who is also the founding member of the Professional Angling Guides of Ireland. The business is based in Sligo Town.
North West Angling Services was set up in the late autumn of 1997 to promote game angling in the highly productive and relatively unspoilt region of the country comprising of counties Sligo, Leitrim and part of Mayo and Roscommon.
Amongst the fisheries available is the beautiful Lough Gill where, on average, more than 100 highly prized spring salmon are landed by rod and line each year. The equally spectacular Lough Arrow, a rich limestone lake in south Sligo, boasts one of the most prolific brown trout fisheries in the country. Specimens of 6lb and greater are caught during the exciting mayfly season.
Magnificent river fishing is also available. The small spate River Easkey in west Sligo enjoys significant grilse runs and provides great sport to the committed angler during the summer months.
In addition to these treasures the keen angler can avail of excellent sea trout, brown trout and rainbow trout fisheries throughout the region and perhaps more importantly, over an extended season from January to October.
Caddagh, Glebe, Dromahair, Leitrim,
Mr Ken Henry
E: henry.ken@itsligo.ie
Ard Nahoo Eco Retreat
Ard Nahoo Eco Retreat
Escape to the eco-resort of Ard Nahoo, nestled in the hills of north County Leitrim near Dromahair. Midweek and weekend packages are available including yoga and natural healthcare treatments.
Guests are invited to come and escape at Ard Nahoo for a week, or even a few days and benefit from relaxing in the opulence of nature near Dromahair, County Leitrim.
The innovative eco cabins are ideal for family holidays or chillout breaks with friends. Visitors can relax within the grounds; enjoy sessions in their Uisce area with its outdoor sauna and hot tub; or avail of yoga classes, holistic treatments and organic food, all amid a utopia of calm.
Whatever guests choose Ard Nahoo offers the ultimate in eco-friendly relaxation and personal retreats throughout the year. Watch the sun set from the deck of a private eco cabin, or indulge in massage treatments, organic food and most importantly, peace and quiet.
7 mins from The Riverbank Restaurant.
Mullagh, Dromahair, Co. Leitrim.
Ms Noeleen Tyrrell
T: +353 71 913 4939
F: +353 71 916 4733
E: info@ardnahoo.com
http://www.ardnahoo.com/
Creevylea Abbey
Creevylea Abbey
Found just outside of Dromahair in County Leitrim, Creevylea Abbey was one of the last monasteries established in Ireland prior to the suppression under Henry VIII. It is particularly noted for a lovely stone carving of St Francis of Assisi preaching to birds.
Creevylea Abbey boasts a lovely, scenic location along the banks of the River Bonet, just outside the village of Dromahair in County Leitrim. It's thought that the wife of Owen O'Rourke established the Franciscan monastery in 1508, though it survived little time, as Henry VIII called for the dissolution of the monasteries less than 30 years later.
The ruin comprises nave, choir, south transept and the bell tower, which was converted into living quarters in the 17th century. There is also a cloister that features interesting stone carvings.
4mins from The Riverbank Restaurant.
Dromahair, Co. Leitrim.
Mr Ken Henry
T: +353 71 962 0170
E: henry.ken@itsligo.ie
Adventure Gently
Adventure Gently
Adventure Gently, guided canoe tours of NW Ireland's Waterways, offers the opportunity to enjoy our beautiful landscapes from a different perspective. As the name suggests this is a suitable activity for all abilities and ages.
Adrienne and Graham from Adventure Gently are experienced and qualified canoeists. They lead the small groups, sharing their passion for Canadian canoeing, their local knowledge and love of the area.
All necessary equipment for the day out on the river, lake or canal, is provided. A chance to see wildlife such as a kingfisher darting across still water or if you are really quiet to see him fishing! Learn some basic canoe strokes, relax and enjoy the tranquillity of travelling by water.
Whether a visitor wants to 'dip their toe in' or take a 'a total immersion' experience, Adventure Gently have the options, from 2 hour trips to multi-day expeditions.
Close to the Wild Atlantic Way, some of Adventure Gently's favourite paddling locations are, the scenic Shannon Blueway, Lough Gill and its many islands, including the famous Lake Isle of Innisfree, The River Bonet (Dromahair) to Parkes Castle, River Boyle and Lough Key, The Secret River Shannon, Shannon-Erne Waterway and many many more!
Join Adventure Gently and they will show you the beautiful Northwest landscape from a different perspective.
Visitors will be met at a pre-arranged location which suits both them and the weather forecast. At Adventure Gently, in accordance with their 'green' philosophy, they take nothing but photographs and leave nothing but ripples. Adventure Gently will take a photo journal of your canoeing adventure for no extra cost. Adventure Gently works with other activity providers and can arrange a very special Big Day Out for you, in addition to a guided canoe trip, how about electric bike tour-cycling made easy on the scenic small roads of Leitrim and a guided foraging walk to remember with fantastic Tina, the queen of foraging.
Beagh, Dromahair, Leitrim,
Mr Adrienne Diamond
E: adventuregently@hotmail.com
www.adventuregently.com/
Ardvarney Country Lodge
Ardvarney Country Lodge
Ardvarney Country Lodge is a farmhouse with sheep and hens for your daily fresh eggs. There are three Bed and Breakfast rooms in the main house. Additional this year we will start with three Shepherds huts for glamping in our field.
Ardvarney Country Lodge offers the standard you have at home combined with nature, walks and beautiful views.
The Lodge is a combination of bed and breakfast and glamping in self-contained Shepherds huts (with shower, toilet and a little kitchen).
Additionally there is an multi-functional room for Reiki healing and lessons, and for group activities.
The garden and surrounding land are for you to walk and explore and to greet the sheep, chickens, ducks and dogs.
Ardvarney Country Lodge can offer you a quiet rural experience where you can choose from customised packages of holiday experiences utilising the broad variety of unique Leitrim features.
The location allows guests to enjoy the peace and tranquility of traditional Irish farmland while being close enough to Dromahair, Manorhamilton, and Sligo to experience some of west Ireland's most popular (coastal) towns and villages.
Situated very near to the breath-taking Wild Atlantic Way, there is plenty to see and do. Explore the Lakelands and mountains nearby in Leitrim, wander through magnificent woodland areas, or seek out ancient tombs and monuments.
After a day of adventure, unwind with a relaxing massage or Reiki healing session as part of our Ardvarney Holistic Caring.
It is the aim of Ardvarney Country Lodge to be unique in its service and give guests that feeling of connection with the typical Irish country side, in a cosy clean and warm home or Shepherds hut.
4 mins from The Riverbank Restaurant.
Ardvarney, Dromahair, Leitrim,
Ms Carin Van Wing
E: ardvarneycountrylodge@gmail.com
ardvarneycountrylodge.com
Leitrim Landscape Walks
Leitrim Landscape Walks
Leitrim Landscapes is based around Manorhamilton, County Leitrim. Their expert guides Nuala, Tina and Rob offer a range of walks to explore the local scenery, nature, wild foods, history and archaeology of the area.
Join Tina as she seeks edible mushrooms and plants for the kitchen in one of their natural foraging walks, you will learn what is safe to eat. Tina is also an expert on the local archaeology and will bring you to discover the megalithic past of the area. Rob will explore the rich wildlife such as birds and butterflies, while Nuala can take you on a historical journey, learning about the folklore and history of the area.
Whatever your interests are, venturing out into the landscapes of Leitrim with Leitrim Landscape Walks will be a worthwhile experience and a fantastic way to learn and discover.
9mins from The Riverbank Restaurant.
Tawnylust, Manorhamilton, Co Leitrim.
Tel: +353 87 917 2143
info@tawnylustlodge.com
www.irishecotourism.com/p/leitrim-landscapes.html
Glenfarne Demesne - Walking
Glenfarne Demesne - Walking
Glenfarne Demesne in northeast Leitrim once formed a portion of the Tottenham estate.
Glenfarne Demesne  was once part of the Tottenham Estate which had land in Leitrim which amounted to over 14,500 acres in the 1870s.
The estate is about 1.5 km north of Glenfarne on Manorhamilton/Enniskillen road.  There is a picnic area and boat quay at the lake, but the road through the Demesne is not open to the public. There is ample parking.  Looped trails, of varying lengths, take you from the car park along the edge of Lough MacNean, returning through a diverse and varied commercial forest. The trails offer panoramic views of Northern Ireland on the other side of the lake. Adjacent to the trails is the feature known as Myles Big Stone. From here, there is a panoramic view of Lough MacNean and the surrounding countryside. This Stone is thought to have been a place of worship in olden times. Mainly coniferous plantations can be seen along this trail with some beech, birch, holly and alder.​
Glencar Waterfall
Glencar Waterfall
Glencar Waterfall is 50ft high and is situated at Glencar Lough and served as an inspiration to the William Butler Yeats and features in his poem 'The Stolen Child'
'Where the wandering water gushes
From the hills above Glen-Car,
In pools among the rushes
That scarce could bathe a star,'
The waterfall is really impressive after rain and can be viewed from a lovely wooded walk. The waterfall amenity includes a children's playground, picnic areas, café facilities, tourism information and ample parking. There are more waterfalls visible from the road although none are quite as romantic as this one.
Entry to the site is free and there is a free car park, picnic area, public toilets, playground, tearoom and Tourist Information point.  This site is wheelchair friendly.
Glencar Waterfall is a scenic 25min drive from The Riverbank Restaurant.
Fowley's Falls
Fowley's Falls
Reputedly named after a one-time local landowner in the Rossinver area, Fowleys Falls is one of the best kept secrets of North Leitrim. As the Glenanniff river travels down from the mountain above, it has eroded the local blue limestone to form a deep river valley.
Unlike the more popular Glencar waterfall, also in North Leitrim, Fowley Falls is not a single-drop waterfall, but rather cascades in a series of drops over the exposed bedrock to form a spectacular torrent of water rushing through the steep valley towards Lough Melvin. In penal times locals gathered at the Mass Rock further down the river, and enjoyed fish caught close by.
The walk as natural as possible with narrow gravel paths, stiles made from stone drawn from the riverbed and minimum interference to the natural ecosystem. Rather than cutting back the hedgerows to give full views, windows were cut at various stages, or stopping points in the walk, where the walker could take in the best view of the river.
The extension to the walk is now complete and can be accessed near the Organic Centre. The total length of the walk is around one and three-quarter miles (around 3 kilometers). Visitors should be aware that it is not a circular walk.
The falls are a scenic 25min drive from The Riverbank Restaurant.
Struth in Aghanidh An Aird / Devil's Chimney Waterfall
Devil's Chimney Waterfall
Devils Chimney Waterfall –Struth in Aghanidh An aird: Sligo/Leitrim border
The Devil's Chimney waterfall 'Sruth in Aghaidh An Aird' lies on the Sligo/Leitrim border in the Glencar valley, only a stone's throw from its more famous neighbour Glencar waterfall.
At 492 feet (150m) it's listed on the World Waterfall database as Ireland's Tallest Waterfall. Its name means stream against the height and reflects the observed phenomena that during certain weather conditions (when the wind blows from the South) the waterfall is blown upward and back over the cliff from which it falls. Due to this it has become known as the Devil's Chimney.
Glencar valley has a wide variety of plants and animals. Both the lands above the trail and the lake are designated as a Special Area of Conservation due to their own rich ecological value. Species range from Otter to Peregrine Falcon. Keep an eye out for the lovely donkeys in the fields on the way up the new walk way developed for the waterfall. They make a great picture opportunity with the backdrop of the lake. Also of interest are the yew trees, which grow high on the stretch their arms up the steep slopes as can be seen below the cliff face.
A note when planning your visit. The waterfall does not flow during periods of dry weather; but it is particularly spectacular during or immediately after periods of heavy rainfall. So a perfect off-season location to visit.
150 metres height. Walk 45 minutes length in duration
Approx 25mins drive from The Riverbank Restaurant.
Tobernalt Holy Well
Tobernalt Holy Well
Tobernalt Holy Well is a place of reflection and nurturing serenity. It predates the advent of Christianity to Ireland in the fifth century. Its importance as a meeting place and a sustainer of life predates our Celtic ancestors.
At this time, the pilgrim at Tobernalt shares in the inherited ancestral tradition coming from earliest times, which was christianised by St. Patrick and held steadfastly by faithful generations ever since. The challenge posed by Tobernalt is to ensure that the tradition will continue to enrich the generations not yet born.
Tobernalt Holy Well is maintained by St. John's Parish, Carraroe, County Sligo, Ireland. If you would like more information on the Holy Well you can call the Parish Office: O71-9162136 or e-mail carraroe@holywellsligo.com
Approx 20mins drive from The Riverbank Restaurant.
O'Rourke's Table
O'Rourke's Table
O'Rourke's Table is a mountain located on the outskirts of Dromahair. Walkers who make the effort to climb up O'Rourke's Table, helped by several hundred steps cut into the side on the ridge are rewarded by amazing views of Lough Gill, Parkes Castle and Sligo Bay. For those eagle-eyed visitors keep an eye out for 'the sleeping warrior' a rock formation that looks like a mythical figure from folklore, snoozing on the ridges of Keelogyboy, Leean and Benbo. But be careful in case you just might wake him!
There are a couple of legends surrounding O'Rourke's Table; one involves the local chieftain who used to live nearby. It is said that Tiernan O'Rourke used to climb the verge when returning home from hunting expeditions to check if his wife had left a candle in the window for him, as a symbol of her love. However, one day there was no candle in the castle window. Devorgilla (wife of Tiernan O'Rourke) had eloped with Dermot McMurrough (the King of Leinster) in 1153 an act, which brought about a feud and McMurrough's eventual exile from Ireland.
O'Rourkes Table estimated elevation above sea level is 144 metres.
Directions: From Dromahair on R286, Just Before Parke's Castle, you take the slip road to your right. Site will be signposted from this point.
Villier's Castle
Villier's Castle
Villier's Castle, now a ruin, is a fortified manor house, built during the first plantation of North Leitrim, on the site of the former O'Rourke stronghold.
The current arched gateway leads immediately to a small courtyard encompassed on 3 sides by the building with its 7 double chimneys.
Until recently, before the group of townhouses opposites was built, another equally high wall protected a courtyard of out-buildings , thereby creating a 'gateway' to the village. Archaeological excavations in the vicinity for the housing development uncovered an old drain, but with little finds of 'significance' which seems very surprising.
The O'Rourke chieftain, Brian was in the 1620's imprisoned in London when George Villiers, a favourite of the catholic King James 1st, was granted 8000 acres in Leitrim. However, soon afterwards, Villiers was assassinated in Portsmouth and the estate passed to his brother William who built the castle .
The Abbey Loop Walk
The Abbey Loop Walk
The Abbey Loop 5km walk at Dromahair takes you on a journey through a rural and built landscape shaped by history , from the Medieval period of monks and chieftains, Elizabethan plantation , the 19th century planned village, the industrial age of railways and not least through the diverse natural heritage of rivers, streams and hills farmed by countless generations.
Brochure Guide (link to : https://dromahairheritage.files.wordpress.com/2017/02/bigen.pdf) Download this brochure-guide which has the history of some of the landmarks is outlined. In the centrepiece are symbols of local history St Francis sculpture, Diarmuid Mc Murrough, Salamander from the Spanish Armada and the Railway – against a background of the Book of Armagh leather satchel which contained Irelands earliest written records, featuring Droma Lios.
The Route:  In the centrepiece here the circular route can be seen, passing clockwise southwards through the village with its 19th century planned layout, past shops, substantial and smaller private houses, many with front gardens which is unusual for an Irish village. The route passes by historic sites such as Villiers Castle, behind which are the ruins by the river of O Rourkes Hall. Crossing over the Bonet River by Dervorgilla Bridge, continuing south towards the Railway Station and back to us at The Riverbank Restaurant.
Here, turning right at the old level crossing, An Bealach Glas (the Greenway) leads along the path of the railway track through the ecologically diverse vegetation on to the next gate house. Then, heading northwards through picturesque farmland, a majestic view of the Sleeping Giant mountain feature comes into view. On by the roadside and a left turn brings you to the magnificent ruins of Creevelea Abbey. From here the circle is completed by passing the waterfalls and crossing over a footbridge alongside the historic Abbey Hotel.
Electric Bike Trails
Electric Bike Trails
Electric Bike Trails is a family run business from their base in Leitrim Village. Having lived and worked in the area all their lives, owners Seamus and Eileen have lived the culture and heritage of this rural area. Bringing together their knowledge and experience they have developed this Electric Bike Trails business to share with the tourist the best that this area has to offer.
Exploring on electric bikes is an ideal way to enjoy the unique qualities of our county. It is very important to us to do this in an environmentally friendly manner and leave no trace principles are practiced.
+353 71 96 23609 | +353 87 7386439 | +353 86 8288747
info@electricbiketrails.com
electricbiketrails.com